SPEEDY
PAINT
SYSTEM SPS CUP FACTORY
SPS Cup can save more time, with the spray gun, can clearly distinguish the use of paint
INSTRUCTION
1. Ready
(1).Prepare all parts of the cup (Lid,Liner,Outer cup)
(2).Put the liner into outer cup
(3).Assemble the adaptor to spray gun
2. Painting
(1).Pour paint into liner and mix it.
(2).Close the lid and clip on to lock the system.
3.Use
(1).Connect the spray gun with SPS system and lock.
(2).Connect air pipe and pull trigger to expel the air from the cup.
(3).Paint at any angle, even upside down!
4. End
(1).Disconnect air pipe and twist off the spray gun from SPS system
(2).Unlock the SPS system,take out lid together with liner,and discard them only as regular garbage.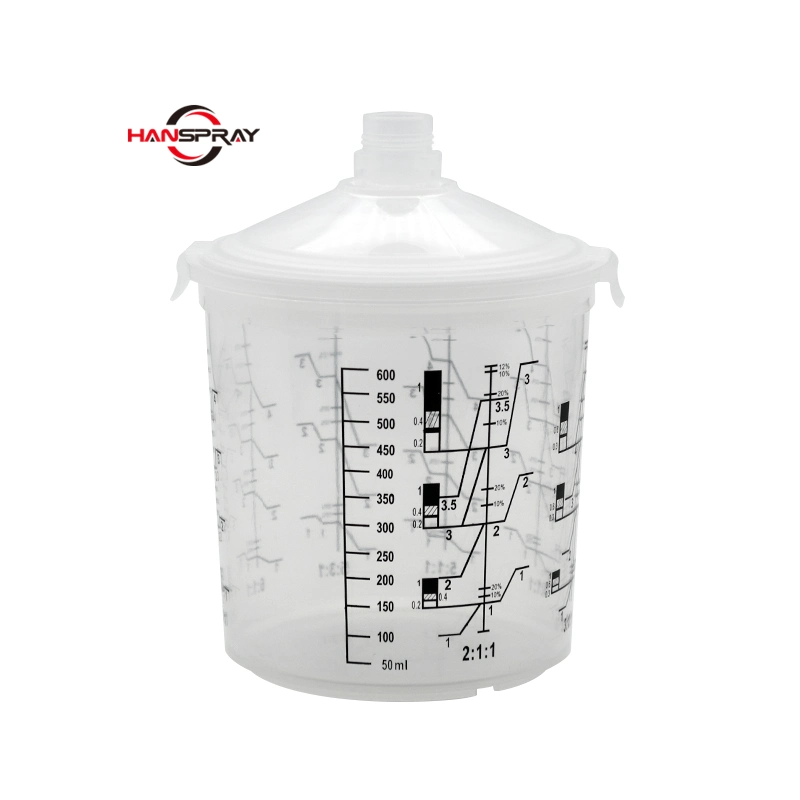 ADVANTAGES OF SPS CUP
Economical 70% thinner and cleansing time saved
Eco-friendly Less thinner,less poison.
Efficient Mixing. & painting 2 IN1
Easy Painting at any angle, even upside 'down.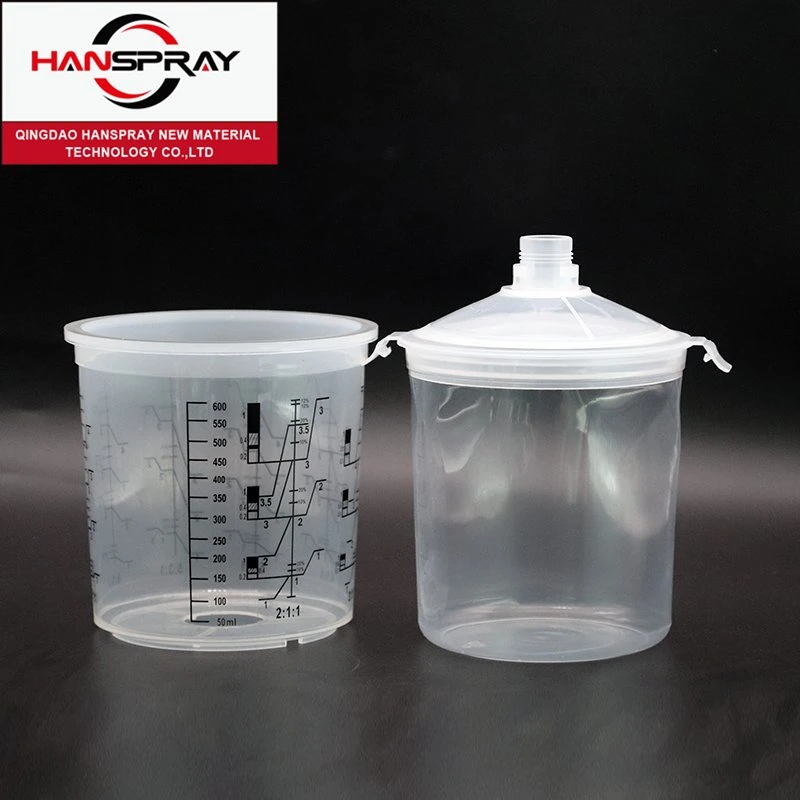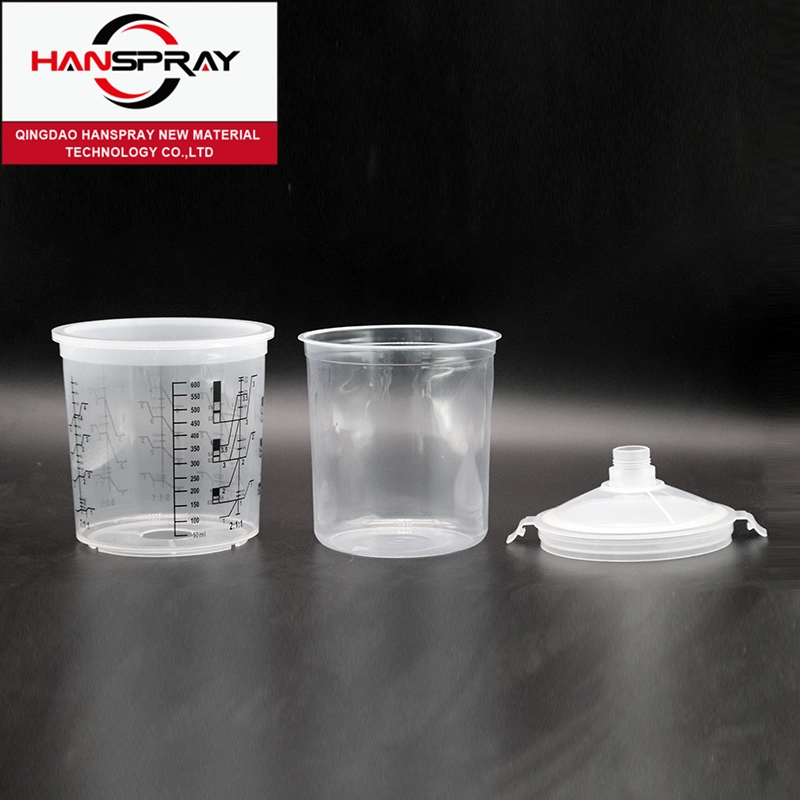 1.TRADITIONAL COLLAR
* Stable locking.
* Higher hardness and smothness.
2.REINFORCED STRUCTURE
* Stronger,no break.
3. ACCURATE SIZE
* Easier assembly.
* No leakage.
4.SOFTER LINER
* Reducing the remains of paint .
* More trans parent for easier observation.
5.STRONGER OUTER CUP
* Mixing & painting 2 IN 1.
* Stronger protection to liner. .
* Clearer and professional calibration.
Product name
Speedy paint system (SPS PAINTING CUP)
Size
90ML/180ML/400ML/650ML/850ML
Material
Food-grade PP/LDPE
Filter type
80mic/125mic/190mic
Applications
Auto refinishing/ Furniture/ Construction/ Industrial /Marine/Aerospace painting.
Feature
1.Mix&paint 2 in 1
2.70%Thinner and time saving
3.Painting at any angel
4.Stable quality and trust worthy service
Package
50 Lids+50 Liners+ 20 Stoppers+1 Outer cup / box
Delivery
About 15-20 days after receiving deposit.
PRODUCT PARAMETERS
Brand:HANSPRAY
Volume: 90ml/180ml/400ml/650ml/850ml
Product Name: SPS 2.0 / spray gun cup /paint SPS cup
Material: Food grade PP,LDPE
Filter type: 80mic/125mic/190mic
Item:Lid/ Liner/ Stopper/ Outer cup
Packing list:50 Lids+50 Liners+20 Stoppers+1 Outer cup/ Box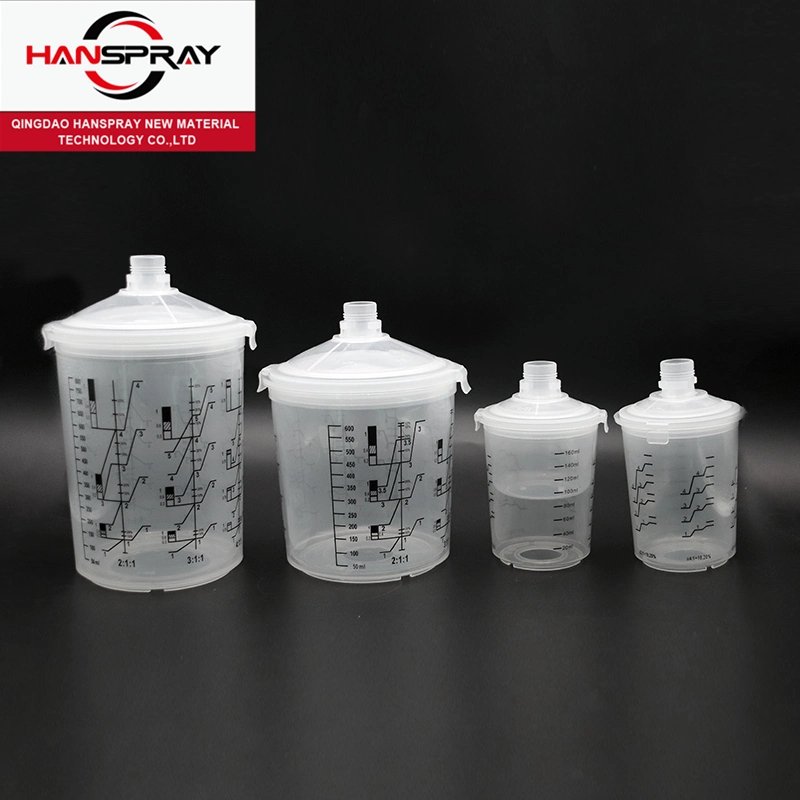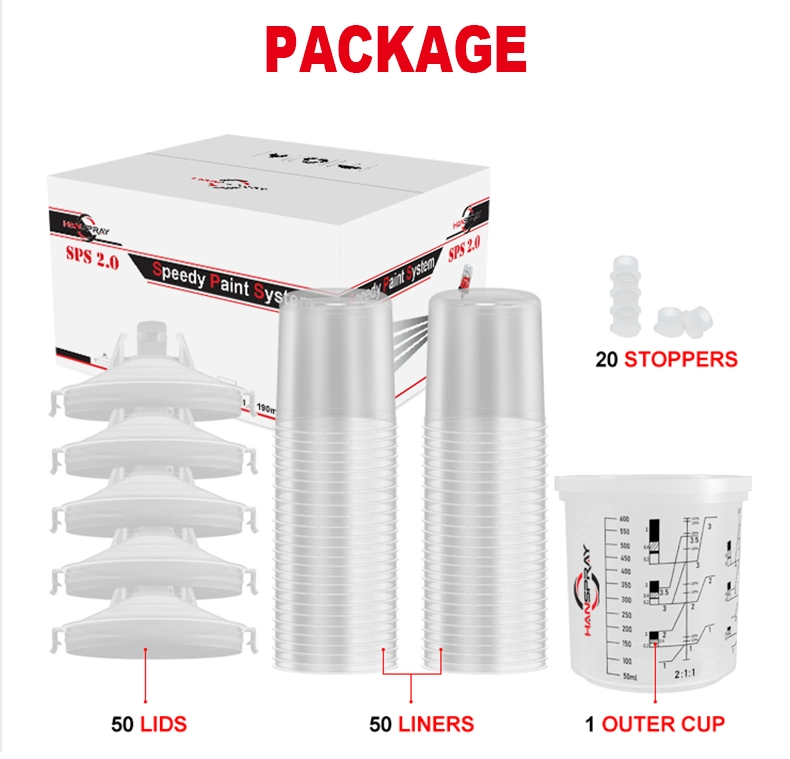 50 Lids+50 Liners+ 20 Stoppers+1 Outer cup / box
ABOUTUS .
QINGDAO HANSPRAY NEW MATERIAL TECHNOLOGY CO.,LTD is a specialized manufacturer for paint preparation solution with over
10 years' experience/ 50,000 sq.ft plant/ annual capacity over 300* 40ft. Our featured product SPS (speedy paint system) has been proved
to be the best option in this industry by our valued partners from over 50 countries world widely.
Taking advantage of the 8 years' marketing experience in this field, Qingdao Hanspray New Material Technology Co., Ltd. got clear
knowledge of the market and supply chain which shows us the way to integrate the best productive resources.By introducing automatic
production equipment and optimizing manufacturing technique,the production efficiency and stability were both improved. Now, the
company designed productive capacity is 1000000 set/month, average lead time is 15-20days.